AQA Capital congratulates Charlton Debono for his amazing result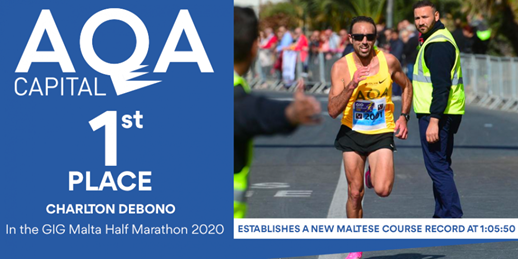 MALTA - March 1st, 2020 is a day to remember for the Evolve Endurance Club. All the athletes did very well last sunday in the GiG Malta Marathon and Half marathon 2020, and Aqa Capital, as the main sponsor of the club, would like to congratulate everybody for their performances, especially Charlton Debono for his amazing result.
He dominated the male half-marathon when completing the distance in 1:05:50 to set a new course record for a Maltese athlete in the 21km race, surpassing the late Gerald Degaetano's record time of 1:07:19 set in 1990. Such an accomplishment is the result of hard work, strong dedication, and courage, and Debono deserves heartfelt, sincere, and warm congratulation.
"I've been looking forward to this year's marathon after the 2019 Malta Marathon was cancelled, even though my presence was in doubt due to an injury that I had sustained", Debono told Times of Malta. "It was a difficult race in a lot of wind but I feel that I am in a very good form – probably the best shape I have ever been in – and it reflected in my performance as I dominated the race and managed also to set a new record." Asked about his future plans, Debono explained that he will be representing Malta in the upcoming World Athletics Half Marathon Championships which will be held in Gdynia, Poland on March 29.