WHAT CAN YOU DO IN TEN SECONDS? PAUSE. THINK. HAVE A GUESS…
The air is nippy in the early hours of a grey autumn day, in London. Clock and venue are mismatching on the door of a dark nightclub in Soho: at this time of the day, clubgoers usually head for home after a ravaging night. This time, instead, press officers holding white sheets of paper are ushering journalists in. Swirling trays of Danish pastries and exotic fruit juices, waiters serve a crowd of reluctant early risers, charged with expectation. Trepidation is palpable in the room as THE question is lit up on the maxi screens scattered around: "What can you do in ten seconds?" Here we are.

Images of an intriguing new piece of technology emerge on screen to the loud sound of what could be a vacuum cleaner. Not rightly so. Appearing before sleepy journalists' eyes is an innovative high-speed hand dryer: it's called "Airblade". Because, yes, it's a blade: an incredible 640 km/h airstream, forced through a 0.3mm opening, literally 'scrapes' water from a user's hands. And yes, 10 seconds is how long this machine takes to dry hands. Sir James Dyson, the maverick inventor of "Airblade", springs out on stage with the energy and enthusiasm of a child magician (with moderately dishevelled silver hair) taking the audience by storm at the global launch of Dyson's latest addition to its catalogue. Airblade, claims the 60-year-old businessman and knight, is more hygienic and 80% more efficient than conventional heat dryers.

Fast forward 17 years and Airblade is a common utility like water: from pubs to motorways, Dyson fast-drying machines are installed in millions of public toilets all over the world. In over 70 years, Sir Dyson's ingenuity has produced some of the most eccentric, toy-looking, powerful high-tech appliances people store in their homes. Think the iconic dual cyclone bagless vacuum cleaner, the upright cordless filters, the bladeless fans or the headphones that are also a wearable air purifier, and, of course, the futuristic supersonic hair dryers: Dyson's colourful army of practical inventions changed the everyday life of common people around the world. This is a 7-billion-pound wealth story started in Kromer, a small civil parish on the shore of Norfolk, the "nose" of England. The wind is blowing across the marshes and sand dunes in Kromer, where a young James, running miles and miles each day, is bolstering his strong determination from an early age.
Success tells you nothing. Failure is interesting – it's part of making progress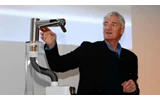 FORGET THE WHEEL, WHEN YOU CAN INVENT A BALLBARROW
In the 70s, as a fresh architectural design graduate from the Royal College of Arts, the willowy young James was asked to design a high-speed landing craft, the Sea Truck, a versatile flat-bottomed fibreglass landing craft. "It was the first thing I'd ever made. I wasn't a businessman, but I approached it with enthusiasm, made lots of mistakes and learned quickly from other people". This is how James Dyson describes his first steps into the world of industrial design in his autobiography James Dyson: Invention, A Life. He went on to conceive the modified version of a wheelbarrow using an 'outrageously orange' ball that, unlike the traditional wheels, would not sink into muddy grounds, a common issue for millions of DIY gardeners around rainy Great Britain. Solving the practical problems of humanity was Dyson's declared drive but the breakthrough idea came in 1978 with a new bagless prototype of a cyclonic hoover, that would only see the light out of his home shed after some 5.127 attempts and 15 years of trials. As it literally threatened to blow away the 500 million dollars market of vacuum cleaner bags in Europe, the model was rejected by the majority of manufacturers, too afraid to lose their recurring revenues and a consolidated market niche. Only two manufacturers were "fool" enough to accept it: Italian appliances company Zanussi, now part of Electrolux corporation, and the Japanese Apex which named it G-Force. It proved to be a tremendous success, but only years later.

In 1993, using the gains from licensing, Dyson himself took on the production, in its first plant at the historic town of Malmesbury, in the south of England. Only then, was the beginning of a new vacuum era: goodbye 'Henry', the old-fashioned and long-selling vacuum cleaner in the UK, hello Dyson. It was soon to become the top-selling vacuum cleaner in Britain, despite its higher retail price, proving that the piercing blue-eyed James Dyson was right when he said: "If you have a better idea and engineering, well people will want it even if it is three times the price". It also shows success is not a straightforward or immediate thing, as the social media era has falsely made to believe. Dyson worked the magic: the bagless vacuum cleaner was sold in over 70 countries and made him one of the richest inventors in the world with a net worth of 7.7 billion dollars, according to Forbes, while the company totalled £6 billion revenues in 2021 and profits up 16% at £1,5 billion.
If you have a better idea and engineering, people will want it even if it is three times the price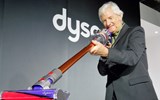 GET BREXIT DONE, IN SINGAPORE
The boy who lost his father to cancer at the age of 9 has grown to embody the spirit of British invention that will gain him the title of Commander of the British Empire, amongst others. In 2016 he was one of the most prominent Brexit cadets, quintessentially Eurosceptic and openly adverse to EU bureaucracies. As we know, Brexit won the referendum in 2016, but what was meant to be a new fruitful era for British entrepreneurs, saw the "king of vacuum" relocating Dyson's headquarters inside St James Power Station, in Singapore. The industrialist and his wife reached a thrilling peak when they bought a luxurious triplex 5-bedroom penthouse in Guoco Tower, Singapore's tallest building. But the foundations of his new £43 million post-Brexit home were shaken by a blast of harsh criticism at home in Great Britain. So much so the Dysons reversed their ill-fated decision and are now back in the UK. Sir Dyson made some famous sentences about success and business, but he seemed to have forgotten an old British pun: "Put your heart where your money is".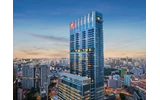 A DYNASTY OF CREATIVE MAKERS TURNING TO ROBOTS!
Lady Deirdre Dyson, an acclaimed carpet designer in her own right, is the elegant woman that has stood behind James Dyson for 55 years since they met as art students in 1966. Dysons' three children, songwriter Sam, fashion entrepreneur Emily and lighting engineer Jake, together with their six grandchildren, are now the pillars of a multi-billion-pound family business that keeps pioneering more and more technological innovation. Malmesbury, the first base for their vacuum empire, is now the headquarter of a state-of-the-art R&D hub. It's the Dyson Institute of engineering and technology, where at the cost of £7 million a week, engineers are deploying sophisticated robotics, machine learning, AI and connectivity to shape our future. A total devotion to experimentation and a compelling 'trial and error' attitude run in Dyson's blood. Sharing the similar bright eyes that his 75 years old father has now framed by round spectacles, Jake Dyson is serving as R&D director and chief lighting engineer of the company. Technological research is at the heart of Dyson's success: entering Cambridge by train, just before arriving at the station, the visitor's eye is captured by the sight of a tall modern tower: it's the physics department of the most prestigious university in the world, where DNA was discovered. It has been fully financed by Dyson to focus on suction, which is at the core of vacuum cleaners. Academic study helps corporations. What can you do with a home appliance that a robot cannot? This might be the next conundrum for him to solve, from a dynasty of creatives who are now imagining and planning a new generation of intelligent, connected products that can self-improve as we use them.

He may be back in the UK, due to overwhelming criticism, but Sir Dyson has not severed his ties with the south-east Asia low-tax haven: just at the beginning of 2023 the tycoon named one of Singapore's top bankers as a director for his business empire's holding company, adding to the roster of high-profile individuals from the city-state involved in overseeing his assets. Tan Su Shan, DBS group head of institutional banking, was appointed late last year to Weybourne Holdings, which also counts Singapore Airlines' former chairperson and a member of the Asian city's richest families as directors. Weybourne oversees the British billionaire's namesake company, as well as serving as his family office: its investments span from real estate to farming and venture capital. The Singapore-based company has received more than £2 billion in dividends and capital transfers from Dyson Holdings since 2019. Paradise is a fiscal place on earth.