Luca Garavoglia was being born in Milan, to the sound of the city's most horrific incident, the Piazza Fontana Bombing. With Italy at stake of political terrorism, in the year 1969 the newborn Luca is just the third son of a milanese employee, Domenico, who serves as the chemistry chief at the liquor maker Davide Campari.
Some fifty-odd years later, Luca is the understated owner of Campari, now a world-wide brand in spirits, one of very few italian multinational companies. Meanwhile Aperol Spritz, the most famous drink from Campari, has brought the italian fashion of Aperitivo, a pre-meal drink with snacks, into a global social phenomenon.
Spirit industry is one of the driving forces behind the maintaining of the world's economy.  The market, despite a looming recession on Europe, is valued at over 470 billion US dollars. And it will get even bigger: notwithstanding the global uncertainty, fuelled by war in Ukraine, alcohol consumption will grow to reach an overall value of 603 billion dollars by 2025.
Under the Garavoglia tenure, Campari sits comfortably on the 'Top 20' list by market cap: it ranks 17th, facing rivals of the likes such Japanese Asahi, Dutch Heineken, and French multi-brand and luxury group LVMH Moët Hennessy Louis Vuitton. Now worth nearly 4 billion, Mister Garavoglia, Campari's chairman, is one of Italy's wealthiest men: in 2022 Forbes placed him among the 10 richest people in the country.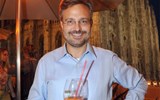 What's older, Italy or Campari?  Well, the answer may surprise you. Campari is older than Italy itself as a country. Gaspare Campari, the tenth son a farmer who invented a "bitter" drink back in 1840. As the business grows, in 1904, Gaspare and his son, Davide, moved the business from Milan's historical city's square, to a bigger location in the outskirt industrial area of the city: Sesto San Giovanni. Here it would remain until today, serving as the group headquarter, while manufacturing has now been moved again in Piedmont region. During the Fascism era, in 1936, Davide dies without any heir: Campari's crown goes to his brother Guido.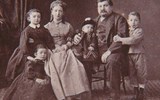 PUTTING ART INTO APERITIVO
The 30's were a pivotal moment in both Italy and Campari history: while Benito Mussolini takes power turning Italy into a dictatorship, from Sesto San Giovanni plant comes the most iconic of Campari products: Camparisoda. It's a drink of a beautiful pinkish-red colour, bubbly, sweet and tart. The bottle design, unchanged to this day, it's a revolution in itself: Fortunato Depero, one of the most prominent italian Futurist artits, created the shape, which became an instant-classic of "usable" design ever produced: a small, textured bottle of an unusual shape, resembling an upside-down glass. It was, also, the first single-dose product to be launched on the Italian market: a ready-to-drink cocktail made from Campari and Soda water.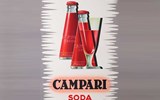 DINASTY THEATRE - A MILLIONAIRE LAWSUIT UNDER THE ITALIAN SUN
The brand saw its beginnings inside Galleria Vittorio Emanuele in downtown Milan's roofed shopping mall. Having survived two world wars, Campari did not survive the hurdle of the next generation, instead. Even Guido had no heirs: so the manager Domenico Garavoglia, who kept the secret od Campari recipe, took over.
In 1994, it's time for Luca, now 25, to take control. No issues for Campari at this stage. Others, tough, were waiting. A war broke inside the Garavoglia dynasty: as it often happens in prominent families, the lawsuit was initiated, once again, over money. In 2000 Maddalena, the eldest daughter, filed a lawsuit against her family, alleging that she was being unfairly forced, metaphorically 'out of her own family'. The lawsuit was eventually resolved, six years later, with a 100 million dollars refund for Maddalena. Unsurprisingly, the war was a fracture in family relationships. So much so that matriarch Rosa Anna Magno, mister Garavoglia widow, decided to remove her daughter Maddalena from her will: Luca and Alessandra became the only heirs. Few years after that dramatic decision, in 2016, Mrs Rosa died leaving behind an estimated fortune 3.3 billion dollars. Again, another war inside the family begins, always about money. Maddalena sued her brother Luca, her sister Alessandra and other family members, arguing her siblings had left her out of the inheritance inventory on purpose. Besides, the daughter wasn't even allowed to access the funeral parlor. Juts few weeks ago, the family saga came to an end. Luca won the last battle in court: he and his sister got acquitted from their other sister charges.