July 7th, 2002 was a nice weather Sunday in Southfields, the southern London borough, which is home to the Wimbledon tennis tournament. History records though, were not for the absence of rain, even if this is a news for the British summer, but for a very unusual match: Venus Williams, a black American tennis player, defender of the women's title from the past year, was facing another black American player. She knew her opponent quite well: it was her sister, Serena.
It was a century-long unique event: it was the first time, since the 19th century, a women's final was between two sisters. The last and only time when the same circumstance occurred was back in 1884. At the end of the century, at the zenith of the Victorian Era, some English gentlemen founded a new sports club named "All England Lawn Cricket and Tennis" in a faraway London outskirt: the Wimbledon myth was born. The place would become the most prestigious sports tournament in the world as much as the surrounding area one of the most sought-after - and expensive - real estate areas in London. Back at the time, though, things were not so popular and successful. The newly founded club lacked members, so it allowed 2 sisters to play on the court, as they were the only ones capable to perform this strange and new outdoor activity.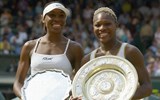 AN AMERICAN TENNIS PLAYER IN LONDON
That summer Sunday in 2002 was the first time ever the Williams sisters faced each other in a Grand Slam singles final. At the time, Venus was the most famous: she had won the title in 2001, coming to global stardom in tennis. But the older sister proved to not know her challenger, despite being part of her family.
I am lucky that whatever fear I have within me, my desire to win is always stronger.
The younger Serena, aged only 20, beat Venus and won her first Wimbledon title ever, making also the public aware of her strange habits about player's chairs, somehow reminiscent of another tennis genius, the control freak Bjorn Borg. A lover of order, Serena made sure that her chair was always facing the court. On the previous day's match, it was facing the baseline, so for the Final, she turned it around. When she was playing doubles with her sister Venus, she did the same with both their chairs. Venus wasn't bothered, but she should have. Besides snatching the title from her sister's hands, Serena also won a rewarding 400,000 Pounds prize in money: it would have been the first of many to come.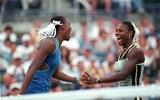 The 2002 Wimbledon final marked a significant moment in the careers of both Serena and Venus, as well as in the history of women's tennis. It was the start of a period of dominance for the Williams sisters, who went on to win a total of 14 Grand Slam doubles titles together, as well as numerous singles titles individually. The year after would have seen the two sisters against each other again in Wimbledon. But Serena did not make the same mistake as Venus: she successfully defended her title by defeating her sister once again in the final. She also became the first woman in 10 years: the last time a woman won back-to-back Wimbledon titles was in 1991-1993 with tennis star Steffi Graf.
I don't like to lose -- at anything -- yet I've grown most not from victories, but setbacks.
Soon the green tennis lawn would become Serena's oyster. The younger Williams sister won the Wimbledon Championships a total of seven times: the same incredible amount as Graf. They're tied as the second-most Wimbledon singles title winners in the Open era, behind the unreachable and out-of-this-world Martina Navratilova's nine titles. In 2009, after a two-year absence from Wimbledon due to injuries and health issues, Serena returned to win her third title: guess who she played against? Again, her sister. Again, another defeat for Venus: it was the last time the two siblings squeezed out the Final. For Venus, it marked also her swan song, as she entered into a decline. Serena would continue to dominate tennis courts for many years to come. She lifted her last saucer at Wimbledon in 2016, defeating Angelique Kerber. By then, she had become a tennis legend.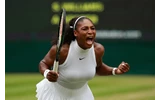 Serena's dominance at Wimbledon over the years has cemented her status as one of the greatest grass-court players of all time. That 2002 first win was the beginning of a fantastic sports career which started very far from south London. For many, Chicago is the one and only real metropolis in the United States. The "Second City" nickname (the first one being New York, of course) is somehow an undeserved playing down. Despite the cold weather, due to the polar wind coming down across Lake Michigan (hence the other city nickname, "Windy City"), Chicago witnessed the most important innovations in US history: from the EL, the city's elevated and first subway; to modern concrete skyscrapers which were invented there after a timber building burned down. American intelligentsia, also, lives in Chicago: it's no coincidence Barack Obama was a teaching professor in Chicago, before moving to DC as the new President.
Everyone's dream can come true if you just stick to it and work hard.
The latest addition to VIP's list is Serena Williams: she is a Chicago-born American, even though she grew up in California. They call it "The Sunshine State", but childhood in Cali was not an easy one for both Serena and Venus. Their father was their tennis coach: Richard Williams took lessons from a man known as "Old Whiskey" and decided his future daughters would be tennis professionals after seeing Virginia Ruzici playing on television. He was so determined he wrote an 85-page plan and started giving lessons to Venus and Serena when they were four and a half, taking them to practice on public tennis courts: more than kids' fun, it was a forced induction. Richard was a controversial figure who controlled the lives of his daughters in an obsessive way after deciding that they would both be the best tennis players in the world, even before they were born. Serena and Venus's father was featured in a biopic movie, but as the two sisters were among the producers, this less admirable side of him was softened. Richard himself later admitted that he felt he took them too early and age six would have been more suitable. When Serena was just a teenager, Williams withdrew her and Venus from a tennis academy and coached them himself.
Growing up I wasn't the richest, but I had a rich family in spirit.
Opinions on Serena and Venus's father are divided: he was a tyrant to his daughters, almost cruel. Not really what one would expect from a lovely parent. But without his military-style training and education, probably Serena would not have become the champion the entire world admired. There are always both sides to every story.
Make sure you're very courageous: be strong, be extremely kind, and above all be humble.
Long before the 2002 Wimbledon final, the controversial Mister Williams predicted that Serena would turn out to be the better player of the two. But after winning the US Open in 1999 and becoming the first of them to win a major slam, Serena fell back. It took her 3 years to make a comeback, in London, while her sister's career was skyrocketing. Sports up and downs were just minor issues for Serena. She also faced some personal tragedies: in 2003, the same year Wimbledon crowned her as the new tennis phenomenon and heir to Steffi Graf, her half-sister Yetunde Price was murdered. Years later she spoke in public about the impact of this tragedy on her life and how she has used it as motivation in pursuing her goals on the court.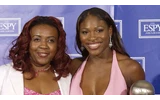 An unhappy manager on the run, Julia Roberts travels to Rome only to discover that the Italian lifestyle can be very sweet indeed in the movie "Eat, Pray, Love". The eternal city proved to be pivotal for Serena as well. After all, it's called "La Dolce Vita" for a reason. In 2015, the year before her last victory at Wimbledon, while playing the Italian Open at Foro Olimpico, fascist era sports complex on the bank of river Tiber, Serena met tech entrepreneur and investor Alexis Ohanian: it was love at first sight. The couple got engaged in December of the same year and then married two years later. Soon after, a baby arrived: their daughter, Alexis Olympia Ohanian Jr. was born in September of the same year.
Every woman's success should be an inspiration to another. We're strongest when we cheer each other on.
Again, life put another hurdle in front of Serena: she struggled a lot with post-partum depression after giving birth. Same as her family tragedy, she spoke out about her issues and since then she has been an advocate for maternal health and wellness. Granted by nature with a bulky body structure, Serena experienced fitness problems as well: the situation gave her also the unpleasant "Fat Serena" nickname. When she was number 1 in the world tennis ranking, she had to go through surgery and had to sit out of action for quite some time. Forced to be inactive, the tennis player ended up gaining weight and dropped below 200 in the ranking. Since then, she became vegan and an avid supporter of animal rights, while accomplishing another spectacular comeback regaining her lost position.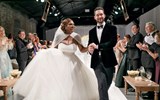 Besides Wimbledon, Serena Williams has won a total of 73 career singles titles and 23 Grand Slam singles titles, which is the most by any player in the Open Era of tennis. Her Grand Slam titles include also 7 Australian Open and 6 US Open titles. This incredible row of trophies also meant a lot of money: she is believed to be one of the wealthiest female athletes in the world. According to Forbes, which ranks global rich people, her net worth, as of 2021, is estimated at around 210 million dollars. The majority of this money, of course, came from her successful tennis career which, along with tennis prizes, included numerous sponsorship deals with companies such as Nike, Gatorade, and Beats by Dre. Additionally, she has pursued various business ventures outside of tennis, including a fashion brand, "Serena". All of this is something quite common among sportsmen. More interestingly, she also diversified her business investing in start-ups through her own capital firm, "Serena Venture". From tennis pitch to tech pitch.