What an amazing day in Valencia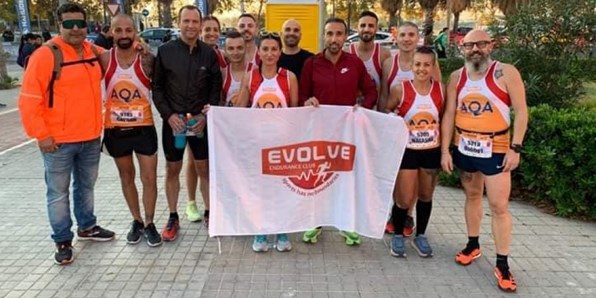 VALENCIA - It was a splending Sunday October 27th in Valencia, and Aqa Capital is proud, as main sponsor of the Evolve Endurance Club of Malta, to celebrate the sterling performance of Charlton Debono, the Evolve's elite athlete that crushed his own National Record on the Half Marathon of Valencia clocking an astonishing time of 1:07'44". We just want to congratulate Charlton on this amazing feat and all the other athletes of the Evolve Endurance Club that run their times as predicted. Well done Evolvers, You make us all proud.
"We had two big challenges – said Has Kesra, the Evolve Endurance Club coach – in Valencia: breaking the national record of the half marathon and one of our athlete must finish within time limit of 2:30. Both missions were accomplished and we are very happy. I am very proud of us as a group and I enjoyed every single moment of it. I knew that in a positive environment where you feel home our performance would have been better and I just want to thank you all".